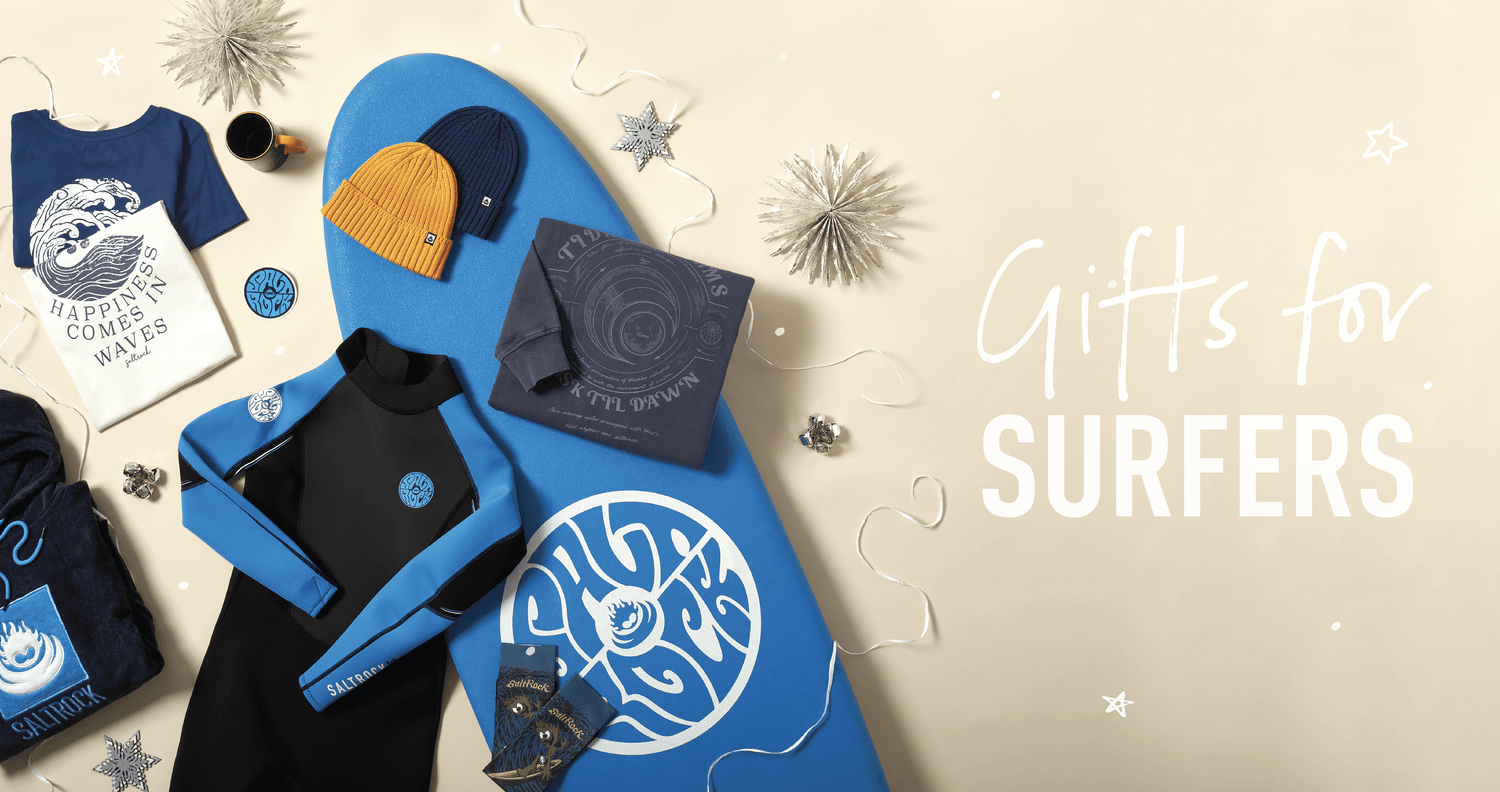 Surfing Gift Ideas
Find the perfect present for Surfers
Our range of beachwear and surf kit provides the perfect gift ideas for surfers.

From rash vests, wetsuits and changing towels, right up to surfboards paddleboards- we've got a range of presents for surfers of all levels and ages.

Get your loved ones ready to ride with our surfing gift ideas!
Vendor:

Regular price

£200.00 GBP

Sale price

£200.00 GBP

Regular price

£200.00 GBP

Unit price

per

Vendor:

Regular price

£180.00 GBP

Sale price

£180.00 GBP

Regular price

£180.00 GBP

Unit price

per

Vendor:

Regular price

£120.00 GBP

Sale price

£120.00 GBP

Regular price

£120.00 GBP

Unit price

per

Vendor:

Regular price

£120.00 GBP

Sale price

£120.00 GBP

Regular price

£120.00 GBP

Unit price

per

Vendor:

Sale price

£45.00 GBP

Regular price

£45.00 GBP

Unit price

per

Vendor:

Sale price

£20.00 GBP

Regular price

£20.00 GBP

Unit price

per

Vendor:

Regular price

£210.00 GBP

Sale price

£210.00 GBP

Regular price

£210.00 GBP

Unit price

per

Vendor:

Sale price

£70.00 GBP

Regular price

£70.00 GBP

Unit price

per

Vendor:

Sale price

£17.50 GBP

Regular price

£17.50 GBP

Unit price

per

Vendor:

Sale price

£35.00 GBP

Regular price

£35.00 GBP

Unit price

per

Vendor:

Sale price

£2.50 GBP

Regular price

£2.50 GBP

Unit price

per

Vendor:

Sale price

£90.00 GBP

Regular price

£90.00 GBP

Unit price

per

Vendor:

Sale price

£40.00 GBP

Regular price

£40.00 GBP

Unit price

per

Vendor:

Sale price

£15.00 GBP

Regular price

£15.00 GBP

Unit price

per

Vendor:

Regular price

£200.00 GBP

Sale price

£200.00 GBP

Regular price

£200.00 GBP

Unit price

per

Vendor:

Sale price

£60.00 GBP

Regular price

£60.00 GBP

Unit price

per

Vendor:

Regular price

£200.00 GBP

Sale price

£200.00 GBP

Regular price

£200.00 GBP

Unit price

per

Vendor:

Regular price

£180.00 GBP

Sale price

£180.00 GBP

Regular price

£180.00 GBP

Unit price

per

Vendor:

Regular price

£120.00 GBP

Sale price

£120.00 GBP

Regular price

£120.00 GBP

Unit price

per

Vendor:

Regular price

£120.00 GBP

Sale price

£120.00 GBP

Regular price

£120.00 GBP

Unit price

per

Vendor:

Sale price

£45.00 GBP

Regular price

£45.00 GBP

Unit price

per

Vendor:

Sale price

£20.00 GBP

Regular price

£20.00 GBP

Unit price

per

Vendor:

Regular price

£210.00 GBP

Sale price

£210.00 GBP

Regular price

£210.00 GBP

Unit price

per

Vendor:

Sale price

£70.00 GBP

Regular price

£70.00 GBP

Unit price

per

Vendor:

Sale price

£17.50 GBP

Regular price

£17.50 GBP

Unit price

per

Vendor:

Sale price

£35.00 GBP

Regular price

£35.00 GBP

Unit price

per

Vendor:

Sale price

£2.50 GBP

Regular price

£2.50 GBP

Unit price

per

Vendor:

Sale price

£90.00 GBP

Regular price

£90.00 GBP

Unit price

per

Vendor:

Sale price

£40.00 GBP

Regular price

£40.00 GBP

Unit price

per

Vendor:

Sale price

£15.00 GBP

Regular price

£15.00 GBP

Unit price

per

Vendor:

Regular price

£200.00 GBP

Sale price

£200.00 GBP

Regular price

£200.00 GBP

Unit price

per

Vendor:

Sale price

£60.00 GBP

Regular price

£60.00 GBP

Unit price

per
GREAT GIFT IDEAS
Changing Robes
Wetsuits
Towels
GREAT GIFT IDEAS
Changing Robes
Wetsuits
Towels
Regular price

£120.00 GBP

Sale price

£120.00 GBP

Regular price

£120.00 GBP

Unit price

per

Regular price

£120.00 GBP

Sale price

£120.00 GBP

Regular price

£120.00 GBP

Unit price

per
Regular price

£200.00 GBP

Sale price

£200.00 GBP

Regular price

£200.00 GBP

Unit price

per

Regular price

£200.00 GBP

Sale price

£200.00 GBP

Regular price

£200.00 GBP

Unit price

per

Regular price

£210.00 GBP

Sale price

£210.00 GBP

Regular price

£210.00 GBP

Unit price

per
Sale price

£45.00 GBP

Regular price

£45.00 GBP

Unit price

per

Sale price

£40.00 GBP

Regular price

£40.00 GBP

Unit price

per

Sale price

£45.00 GBP

Regular price

£45.00 GBP

Unit price

per