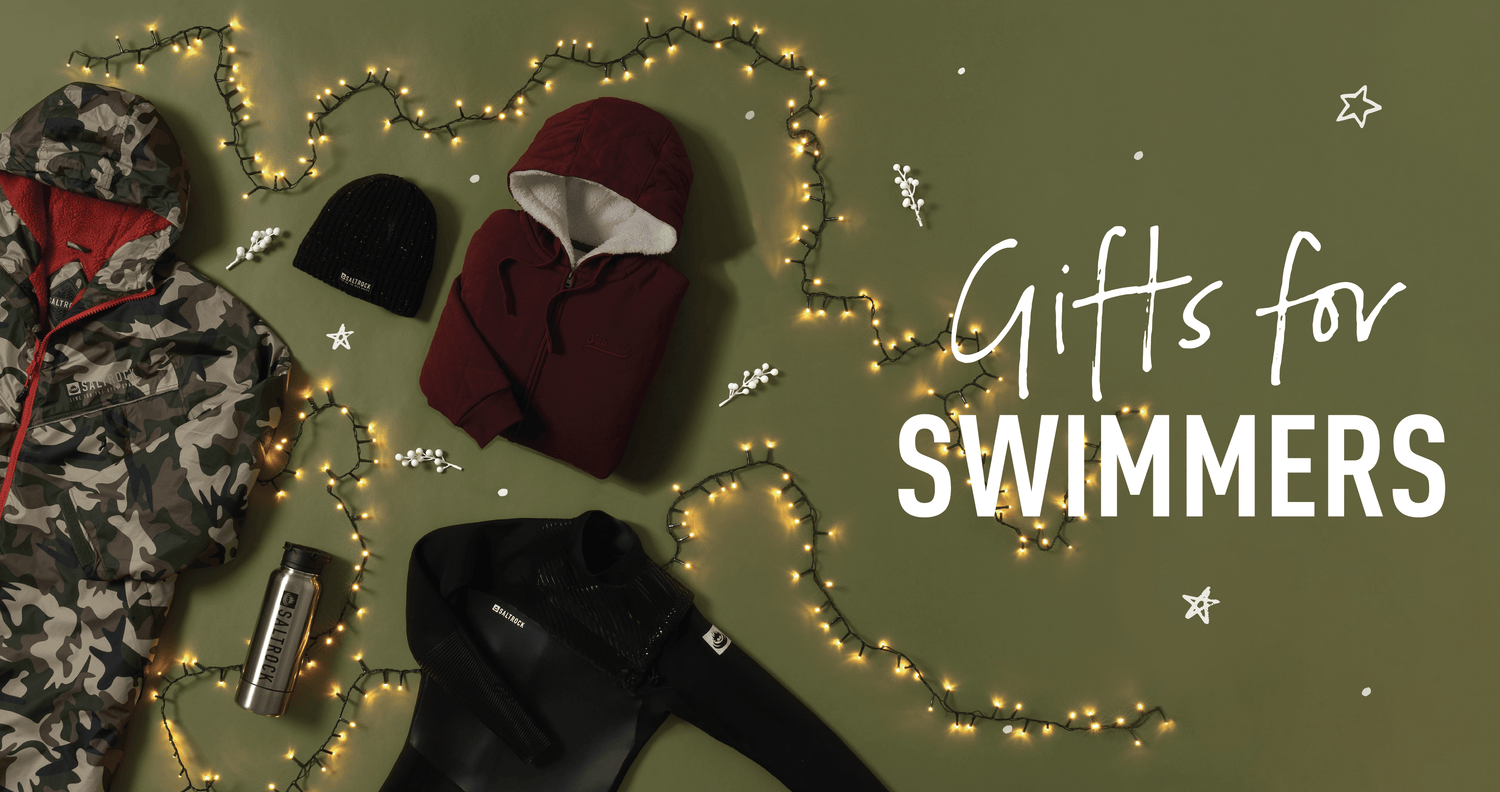 Gifts for Swimmers
Wild & Open Water Swimming Gifts
Whether they enjoy laps of the pool or braving the open ocean, we've got the perfect gift. 
Our Hooded Poncho Towels are a great gift for swimmers- or opt for a waterproof changing robe for extra warmth and protection from the elements (perfect as a wild or open water swimming gift).
Our rash vests and wetsuits are also a great gift for open water swimmers. Find the perfect gift for the swimmer in your life here.
Vendor:

Regular price

Afl470.00 AWG

Sale price

Afl470.00 AWG

Regular price

Afl470.00 AWG

Unit price

per

Vendor:

Regular price

Afl282.00 AWG

Sale price

Afl282.00 AWG

Regular price

Afl282.00 AWG

Unit price

per

Vendor:

Regular price

Afl106.00 AWG

Sale price

Afl106.00 AWG

Regular price

Afl106.00 AWG

Unit price

per

Vendor:

Regular price

Afl94.00 AWG

Sale price

Afl94.00 AWG

Regular price

Afl94.00 AWG

Unit price

per

Vendor:

Regular price

Afl141.00 AWG

Sale price

Afl141.00 AWG

Regular price

Afl141.00 AWG

Unit price

per

Vendor:

Regular price

Afl130.00 AWG

Sale price

Afl130.00 AWG

Regular price

Afl130.00 AWG

Unit price

per

Vendor:

Regular price

Afl235.00 AWG

Sale price

Afl235.00 AWG

Regular price

Unit price

per

Vendor:

Regular price

Afl282.00 AWG

Sale price

Afl282.00 AWG

Regular price

Afl282.00 AWG

Unit price

per

Vendor:

Regular price

Afl235.00 AWG

Sale price

Afl235.00 AWG

Regular price

Unit price

per

Vendor:

Regular price

Afl106.00 AWG

Sale price

Afl106.00 AWG

Regular price

Afl106.00 AWG

Unit price

per

Vendor:

Regular price

Afl470.00 AWG

Sale price

Afl470.00 AWG

Regular price

Afl470.00 AWG

Unit price

per

Vendor:

Regular price

Afl493.00 AWG

Sale price

Afl493.00 AWG

Regular price

Afl493.00 AWG

Unit price

per

Vendor:

Regular price

Afl42.00 AWG

Sale price

Afl42.00 AWG

Regular price

Afl42.00 AWG

Unit price

per

Vendor:

Regular price

Afl83.00 AWG

Sale price

Afl83.00 AWG

Regular price

Afl83.00 AWG

Unit price

per

Vendor:

Regular price

Afl66.00 AWG

Sale price

Afl66.00 AWG

Regular price

Afl94.00 AWG

Unit price

per

Vendor:

Regular price

Afl47.00 AWG

Sale price

Afl47.00 AWG

Regular price

Afl47.00 AWG

Unit price

per

Vendor:

Regular price

Afl470.00 AWG

Sale price

Afl470.00 AWG

Regular price

Afl470.00 AWG

Unit price

per

Vendor:

Regular price

Afl282.00 AWG

Sale price

Afl282.00 AWG

Regular price

Afl282.00 AWG

Unit price

per

Vendor:

Regular price

Afl106.00 AWG

Sale price

Afl106.00 AWG

Regular price

Afl106.00 AWG

Unit price

per

Vendor:

Regular price

Afl94.00 AWG

Sale price

Afl94.00 AWG

Regular price

Afl94.00 AWG

Unit price

per

Vendor:

Regular price

Afl141.00 AWG

Sale price

Afl141.00 AWG

Regular price

Afl141.00 AWG

Unit price

per

Vendor:

Regular price

Afl130.00 AWG

Sale price

Afl130.00 AWG

Regular price

Afl130.00 AWG

Unit price

per

Vendor:

Regular price

Afl235.00 AWG

Sale price

Afl235.00 AWG

Regular price

Unit price

per

Vendor:

Regular price

Afl282.00 AWG

Sale price

Afl282.00 AWG

Regular price

Afl282.00 AWG

Unit price

per

Vendor:

Regular price

Afl235.00 AWG

Sale price

Afl235.00 AWG

Regular price

Unit price

per

Vendor:

Regular price

Afl106.00 AWG

Sale price

Afl106.00 AWG

Regular price

Afl106.00 AWG

Unit price

per

Vendor:

Regular price

Afl470.00 AWG

Sale price

Afl470.00 AWG

Regular price

Afl470.00 AWG

Unit price

per

Vendor:

Regular price

Afl493.00 AWG

Sale price

Afl493.00 AWG

Regular price

Afl493.00 AWG

Unit price

per

Vendor:

Regular price

Afl42.00 AWG

Sale price

Afl42.00 AWG

Regular price

Afl42.00 AWG

Unit price

per

Vendor:

Regular price

Afl83.00 AWG

Sale price

Afl83.00 AWG

Regular price

Afl83.00 AWG

Unit price

per

Vendor:

Regular price

Afl66.00 AWG

Sale price

Afl66.00 AWG

Regular price

Afl94.00 AWG

Unit price

per

Vendor:

Regular price

Afl47.00 AWG

Sale price

Afl47.00 AWG

Regular price

Afl47.00 AWG

Unit price

per
GREAT GIFT IDEAS
Swimwear
CHANGING TOWELS
Accessories
GREAT GIFT IDEAS
Swimwear
CHANGING TOWELS
Accessories
Regular price

Afl94.00 AWG

Sale price

Afl94.00 AWG

Regular price

Afl94.00 AWG

Unit price

per

Regular price

Afl71.00 AWG

Sale price

Afl71.00 AWG

Regular price

Afl71.00 AWG

Unit price

per

Regular price

Afl94.00 AWG

Sale price

Afl94.00 AWG

Regular price

Afl94.00 AWG

Unit price

per
Regular price

Afl83.00 AWG

Sale price

Afl83.00 AWG

Regular price

Afl83.00 AWG

Unit price

per

Regular price

Afl106.00 AWG

Sale price

Afl106.00 AWG

Regular price

Afl106.00 AWG

Unit price

per

Regular price

Afl83.00 AWG

Sale price

Afl83.00 AWG

Regular price

Afl83.00 AWG

Unit price

per
Regular price

Afl47.00 AWG

Sale price

Afl47.00 AWG

Regular price

Afl47.00 AWG

Unit price

per

Regular price

Afl36.00 AWG

Sale price

Afl36.00 AWG

Regular price

Afl36.00 AWG

Unit price

per

Regular price

Afl36.00 AWG

Sale price

Afl36.00 AWG

Regular price

Afl36.00 AWG

Unit price

per