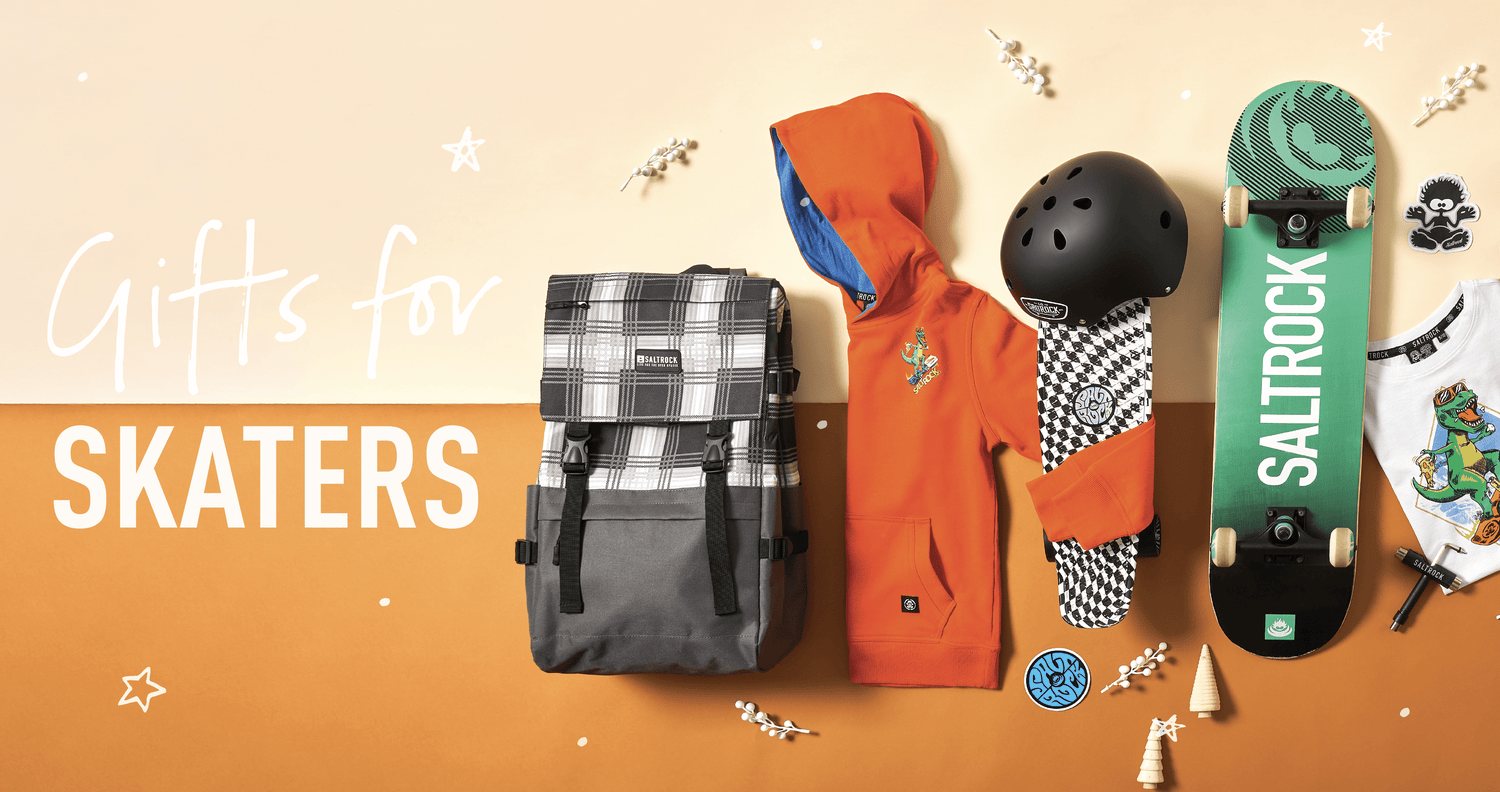 Gifts for Skaters
Looking for skateboarding gifts? Look no further.
Our range of gift ideas for skaters includes everything you need to fully kit out the skater in your life.

Helmet, pads, stickers, socks, tees, hoodies and more are all included in our arsenal of skateboarding gift ideas.

We also stock the skateboards themselves - in all shapes and sizes - so you can find the perfect present for Skateboarders of all ages and skill levels.
Vendor:

Regular price

Afl92.00 AWG

Sale price

Afl92.00 AWG

Regular price

Afl92.00 AWG

Unit price

per

Vendor:

Regular price

Afl65.00 AWG

Sale price

Afl65.00 AWG

Regular price

Afl92.00 AWG

Unit price

per

Vendor:

Regular price

Afl58.00 AWG

Sale price

Afl58.00 AWG

Regular price

Afl58.00 AWG

Unit price

per

Vendor:

Regular price

Afl51.00 AWG

Sale price

Afl51.00 AWG

Regular price

Afl51.00 AWG

Unit price

per

Vendor:

Regular price

Afl69.00 AWG

Sale price

Afl69.00 AWG

Regular price

Afl69.00 AWG

Unit price

per

Vendor:

Regular price

Afl41.00 AWG

Sale price

Afl41.00 AWG

Regular price

Afl41.00 AWG

Unit price

per

Vendor:

Regular price

Afl92.00 AWG

Sale price

Afl92.00 AWG

Regular price

Afl92.00 AWG

Unit price

per

Vendor:

Regular price

Afl46.00 AWG

Sale price

Afl46.00 AWG

Regular price

Afl46.00 AWG

Unit price

per

Vendor:

Regular price

Afl92.00 AWG

Sale price

Afl92.00 AWG

Regular price

Afl92.00 AWG

Unit price

per

Vendor:

Regular price

Afl58.00 AWG

Sale price

Afl58.00 AWG

Regular price

Afl58.00 AWG

Unit price

per

Vendor:

Regular price

Afl6.00 AWG

Sale price

Afl6.00 AWG

Regular price

Afl6.00 AWG

Unit price

per

Vendor:

Regular price

Afl14.00 AWG

Sale price

Afl14.00 AWG

Regular price

Afl14.00 AWG

Unit price

per

Vendor:

Regular price

Afl12.00 AWG

Sale price

Afl12.00 AWG

Regular price

Afl12.00 AWG

Unit price

per

Vendor:

Regular price

Afl10.00 AWG

Sale price

Afl10.00 AWG

Regular price

Afl10.00 AWG

Unit price

per

Vendor:

Regular price

Afl115.00 AWG

Sale price

Afl115.00 AWG

Regular price

Afl115.00 AWG

Unit price

per

Vendor:

Regular price

Afl10.00 AWG

Sale price

Afl10.00 AWG

Regular price

Afl10.00 AWG

Unit price

per

Vendor:

Regular price

Afl19.00 AWG

Sale price

Afl19.00 AWG

Regular price

Afl19.00 AWG

Unit price

per

Vendor:

Regular price

Afl65.00 AWG

Sale price

Afl65.00 AWG

Regular price

Afl92.00 AWG

Unit price

per

Vendor:

Regular price

Afl58.00 AWG

Sale price

Afl58.00 AWG

Regular price

Afl58.00 AWG

Unit price

per

Vendor:

Regular price

Afl51.00 AWG

Sale price

Afl51.00 AWG

Regular price

Afl51.00 AWG

Unit price

per

Vendor:

Regular price

Afl69.00 AWG

Sale price

Afl69.00 AWG

Regular price

Afl69.00 AWG

Unit price

per

Vendor:

Regular price

Afl41.00 AWG

Sale price

Afl41.00 AWG

Regular price

Afl41.00 AWG

Unit price

per

Vendor:

Regular price

Afl92.00 AWG

Sale price

Afl92.00 AWG

Regular price

Afl92.00 AWG

Unit price

per

Vendor:

Regular price

Afl46.00 AWG

Sale price

Afl46.00 AWG

Regular price

Afl46.00 AWG

Unit price

per

Vendor:

Regular price

Afl92.00 AWG

Sale price

Afl92.00 AWG

Regular price

Afl92.00 AWG

Unit price

per

Vendor:

Regular price

Afl58.00 AWG

Sale price

Afl58.00 AWG

Regular price

Afl58.00 AWG

Unit price

per

Vendor:

Regular price

Afl6.00 AWG

Sale price

Afl6.00 AWG

Regular price

Afl6.00 AWG

Unit price

per

Vendor:

Regular price

Afl14.00 AWG

Sale price

Afl14.00 AWG

Regular price

Afl14.00 AWG

Unit price

per

Vendor:

Regular price

Afl12.00 AWG

Sale price

Afl12.00 AWG

Regular price

Afl12.00 AWG

Unit price

per

Vendor:

Regular price

Afl10.00 AWG

Sale price

Afl10.00 AWG

Regular price

Afl10.00 AWG

Unit price

per

Vendor:

Regular price

Afl115.00 AWG

Sale price

Afl115.00 AWG

Regular price

Afl115.00 AWG

Unit price

per

Vendor:

Regular price

Afl10.00 AWG

Sale price

Afl10.00 AWG

Regular price

Afl10.00 AWG

Unit price

per

Vendor:

Regular price

Afl19.00 AWG

Sale price

Afl19.00 AWG

Regular price

Afl19.00 AWG

Unit price

per
GREAT GIFT IDEAS
Accessories
SKATEBOARDS
Clothing
GREAT GIFT IDEAS
Accessories
SKATEBOARDS
Clothing
Regular price

Afl51.00 AWG

Sale price

Afl51.00 AWG

Regular price

Afl51.00 AWG

Unit price

per

Regular price

Afl46.00 AWG

Sale price

Afl46.00 AWG

Regular price

Afl46.00 AWG

Unit price

per

Regular price

Afl12.00 AWG

Sale price

Afl12.00 AWG

Regular price

Afl12.00 AWG

Unit price

per

Regular price

Afl69.00 AWG

Sale price

Afl69.00 AWG

Regular price

Afl69.00 AWG

Unit price

per
Regular price

Afl81.00 AWG

Sale price

Afl81.00 AWG

Regular price

Afl81.00 AWG

Unit price

per

Regular price

Afl65.00 AWG

Sale price

Afl65.00 AWG

Regular price

Afl92.00 AWG

Unit price

per

Regular price

Afl115.00 AWG

Sale price

Afl115.00 AWG

Regular price

Afl115.00 AWG

Unit price

per

Regular price

Afl92.00 AWG

Sale price

Afl92.00 AWG

Regular price

Afl92.00 AWG

Unit price

per
Regular price

Afl58.00 AWG

Sale price

Afl58.00 AWG

Regular price

Afl58.00 AWG

Unit price

per

Regular price

Afl58.00 AWG

Sale price

Afl58.00 AWG

Regular price

Afl58.00 AWG

Unit price

per

Regular price

Afl69.00 AWG

Sale price

Afl69.00 AWG

Regular price

Afl69.00 AWG

Unit price

per